Empties
I'm a little embarrassed at how long it took me to figure out the I-90 express lanes. Having grown up on the Eastside, I thought all express lanes were like I-90's: always going the wrong direction, generally space that could be better used for traffic going both directions (by adding an additional lanes to each side), or perhaps not even there at all. Later on, I learned that I-5's express lanes generally work better. But this still left me confused about the real purpose behind I-90's express lanes.
A while back, I figured it out. An image I saw in the Seattle Times today confirmed what I had been thinking. From Sound Transit via the Seattle Times:
This digitally manipulated photo by Sound Transit shows a proposed light-rail system that would run alongside I-90 across Lake Washington.
(Further edited by yours truly.)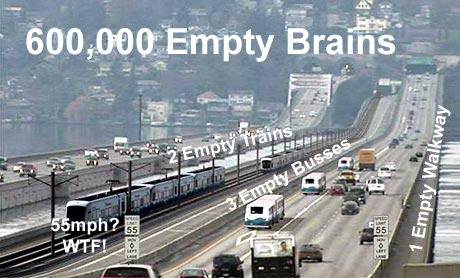 And I even like the walkway.